I am a Certified Trager© Practitioner and licensed massage therapist, with a practice in Washington, DC, since 1998. In order to achieve certification in the Trager Approach, a professional must complete more than 500 hours of training. Once certified, a practitioner must participate in continuing education.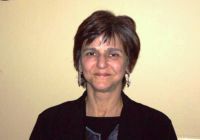 I graduated from National Massage Training Institute in Falls Church, Virginia after completing a 600-hour program. To meet the requirements to be nationally certified in massage therapy, I took the National Certification Board for Therapeutic Massage and Bodywork (NCTMB) exam, earning the highest score possible. I have been licensed in Washington, DC, for 10 years.
Every year, I enroll in as many continuing ed. courses in bodywork as time and money will allow. Most recently, I've studied myofascial release with a disciple of Ida Rolf. I have taken advanced Trager classes, including Reflex Response; Sidelying Trager; Seeing the Body. I have assisted at Level 1, II and III Trager classes in order to deepen my understanding of this richly profound work. To further my expertise in massage, I have taken continuing education courses in: Active Isolated Stretching with Aaron Mattes, founder; Neuromuscular Therapy for Cervical Cranium; Upledger CranioSacral Therapy, Level 1; Soul Lightening Seva Stress Release (acupressure protocol); Sovereign Seminar on Neck Work; Scar Tissue Release; and Reflexology.
Before starting my massage therapy career, I taught for DC Public Schools. I have a Masters in Teaching from Johns Hopkins University. At H.D. Cooke Elementary School, where most of the students come from non-English-speaking households, I founded and published a student newspaper. Students from 1st through 6th grade, many of whom struggled with reading and writing in their classrooms, did all the writing and illustrating for a bimonthly publication.
My major at San Francisco State University, where I studied as an undergrad, was Phys. Ed. with an emphasis in Modern Dance.
My hobbies include dancing -- just about any kind; writing -- I've had two travel articles published in the Washington Post; reading; listening to NPR; listening to good jazz.
I am a good observer of human behavior; empathic listener; very insightful; enthusiastically curious about all things human.
I look forward to meeting you. Please contact me to schedule an appointment or for any questions you may have.